How to Verify a Business in Facebook Business Manager
You can verify your business in Facebook Business Manager to access specific products and tools for your business and make full use of the WhatsApp Business API to build chatbots. Also, a verified company inspires more trust among users.
Business verification differs based on your region and type of business, but in general, it involves documenting and verifying the information entered in the Facebook Business Manager profile (FBM) by providing documents and other information about your company.
Getting Started
Go to "Company Settings" of the selected company page in FBM, and select the "Security Center" tab.
Please note that the following is required for a successful company confirmation:
Active company page connected to FBM. Page activity is formed by posting 1-2 times a day, getting new subscriptions, comments, likes, and other engagement. If you don't have an FBM account, you can quickly create one and log into it using your Facebook account login and password.
Complete information about your company in the "Company Information" tab within the page settings. The information must match what you fill out on the form and what you provide in the documents for confirmation.
Backup administrator. You can add an administrator or change a role in the "People" tab.
Two-factor authentication for all admin pages.
Application for a business account. An invited user with a developer role, can create an application in the Applications tab. You can also register as a developer and create an application on the Facebook developer page.
Documents confirming the legal name of your company, telephone number, and full address with a zip code. Also, all documents must be certified by a signature or seal.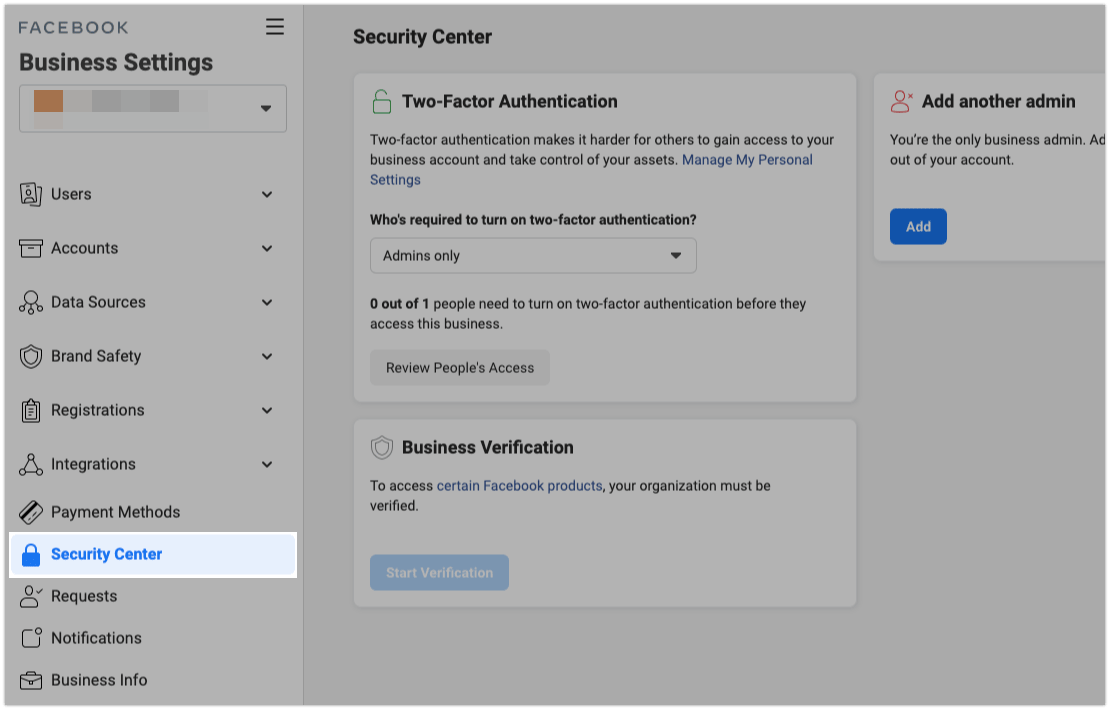 Click Start Verification.
Please note: if your "Start Verification" button is not active, it means that you have recently created a company page or it is inactive. Also check the items at the beginning of the step: page activity, two administrators, and application. Read more about "Confirming Companies" on Facebook.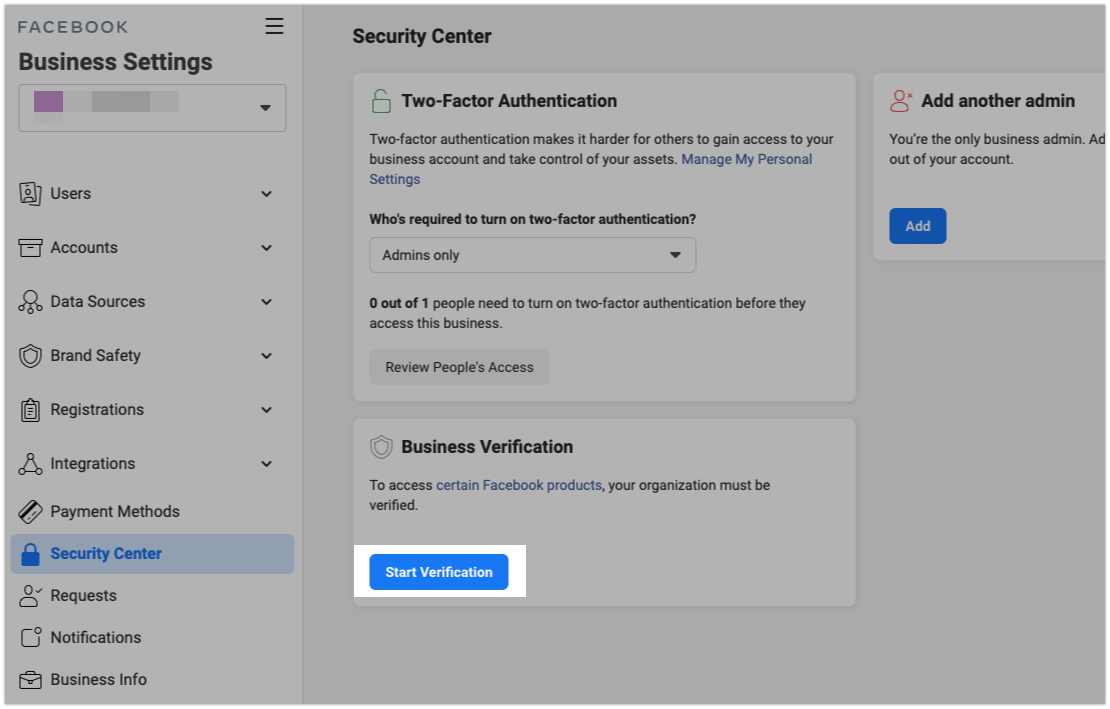 Add Company Information
Enter contact information for your company, like your: legal name, country, address, phone number, and website.
Please note that all of this information must exactly match the information in the documents that you will upload to verify your company. Think in advance on whose behalf (name or legal entity) you will be verified before specifying the name of the company and uploading documents. Make sure that your Legal Name is also indicated on the pages of your website (on the" Contact" page or in your website footer).
The domain name of the site will be used to verify the added corporate email address for communication.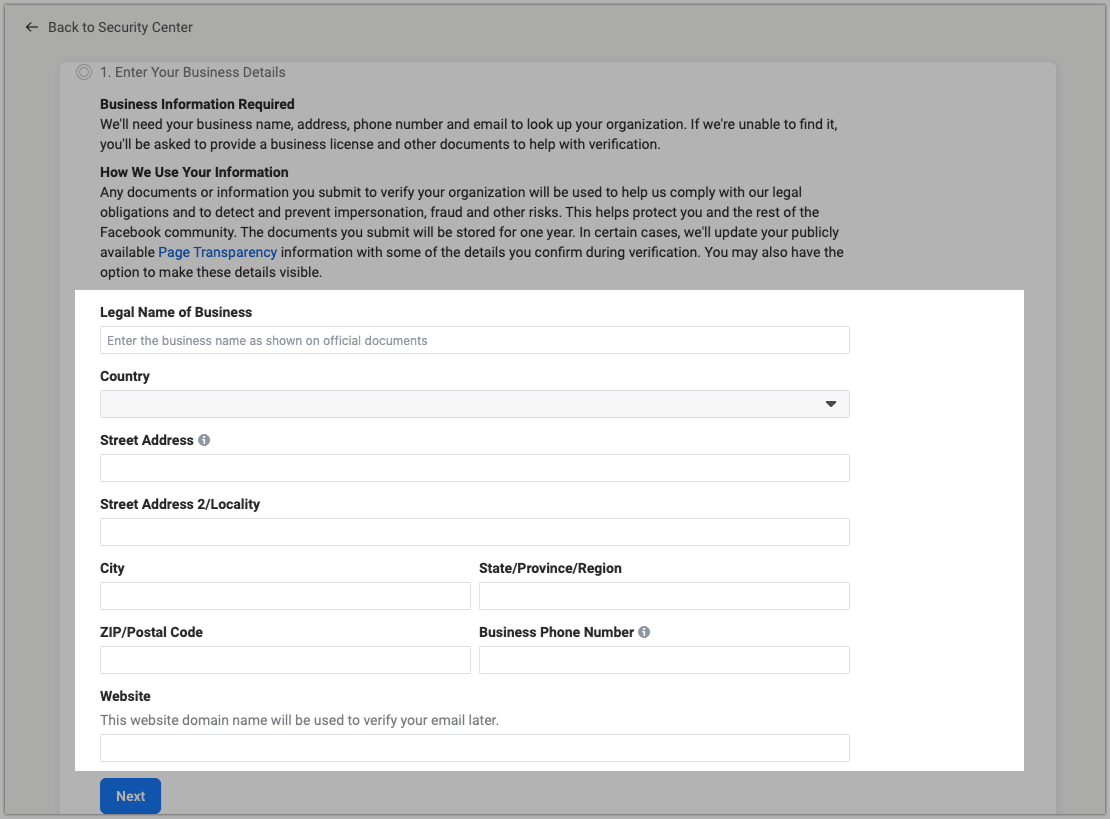 If information about your company is already in public records , FBM will pull this data for you. If the pulled records are inaccurate, select "None of these match," and click Next.
Confirm Your Business Legal Name
To confirm your business name, select the language of your document and upload a PDF document that contains the legal name of your company. For example, it can be a certificate of registration of a company or another stamped document.
Company confirmation documents are accepted in the following languages: Arabic, Bengali, English, French, German, Greek, Hebrew, Hindi, Indonesian, Italian, Japanese, Korean, Malaysian, Mandarin Chinese, Polish, Portuguese, Russian, Spanish, Thai, Turkish and Vietnamese.
If the language of your company's documents is not in the list above, you will need to provide a certified English translation.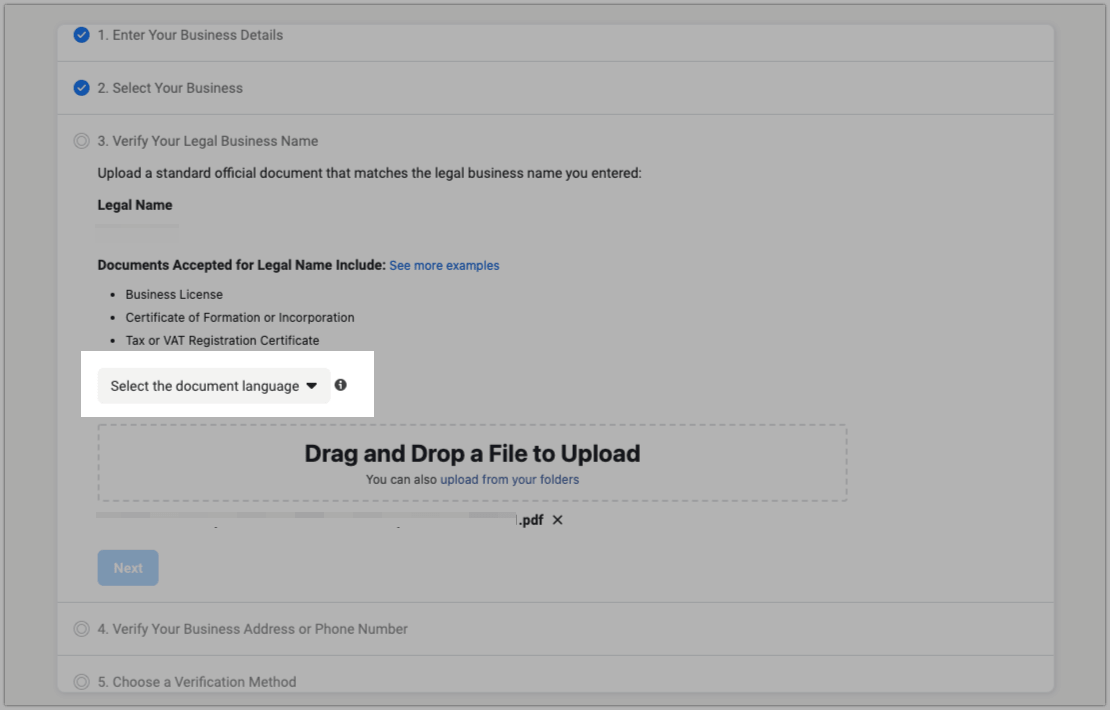 Examples of documents for US businesses:
Articles of incorporation
Business bank statement
Business license
Employer identification number (EIN)
IRS SS-4 (Ein Assignment Letter)
IRS 147c (EIN Confirmation Letter)
Taxpayer identification number
Read more: "Upload Official Documents to Verify Your Business"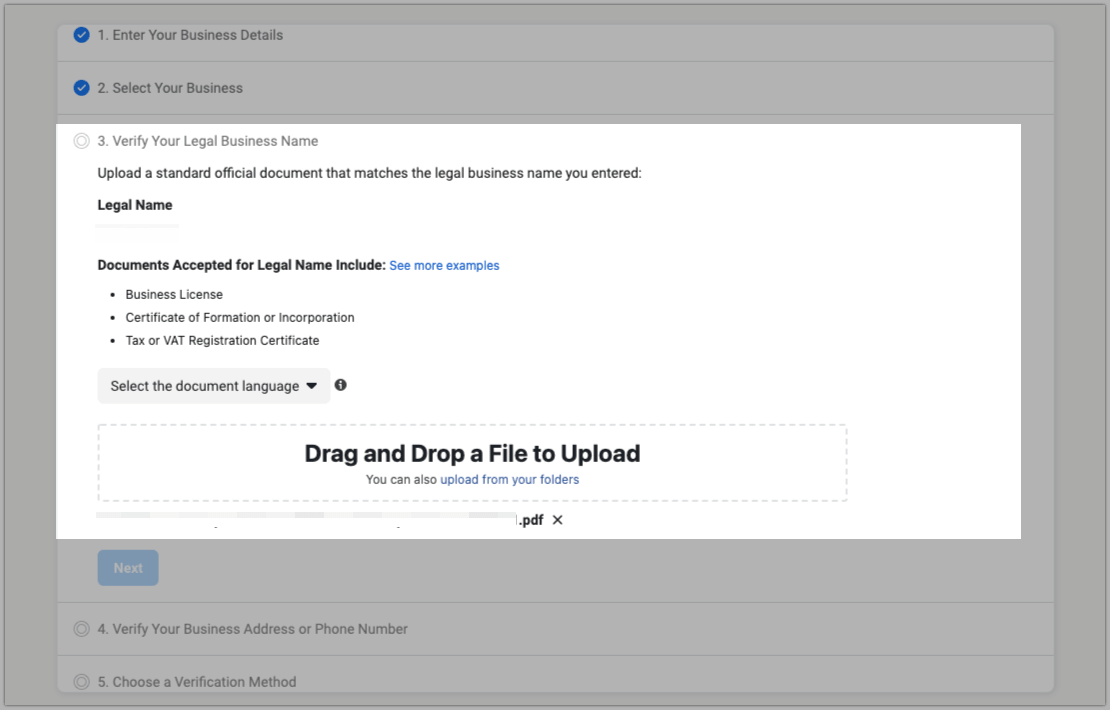 Confirm Your Business Phone Number and Legal Address
To confirm your business address, upload a document that contains the full legal address of the company with a zip code and the phone number you entered. Check the example documents in the third step.
Confirm the Communication Method
You can specify an email address on your corporate domain to l receive a password for confirmation, or use the company's mobile phone number to confirm via SMS or call.
Note: verification with a phone number is only available in some countries. The email address must be on the domain on which your site is verified.
Confirm the Domain
If you have a website, you can verify your company with an existing domain.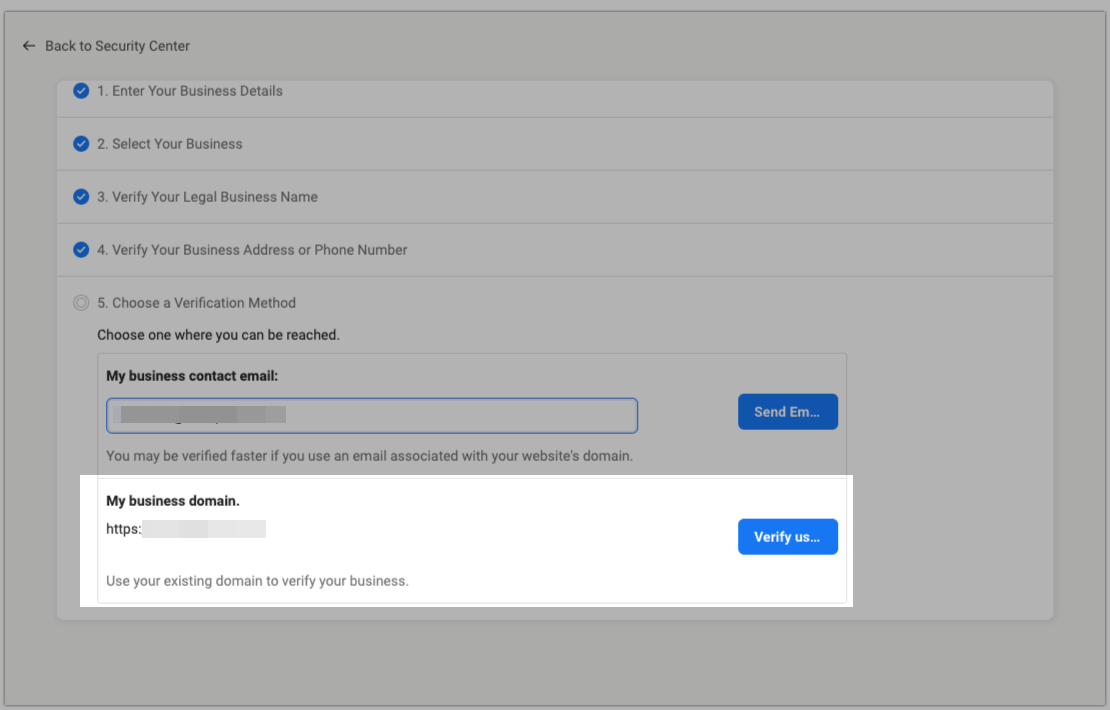 If your domain has already been verified, click Use Verification. Otherwise, complete domain verification.
After confirmation via domain or contact information (email, phone), click Send.
Next, the application will be sent to Facebook. The review process can take from 5 days to several weeks.
We also recommend you turn on notifications and follow the FBM guidelines for developing your business account. For example, your page may have little activity or incomplete information about your company.
You will receive an email notification after the verification process is complete.
How to Сheck Your Verification Status
You can check your verification status in the "Security Center."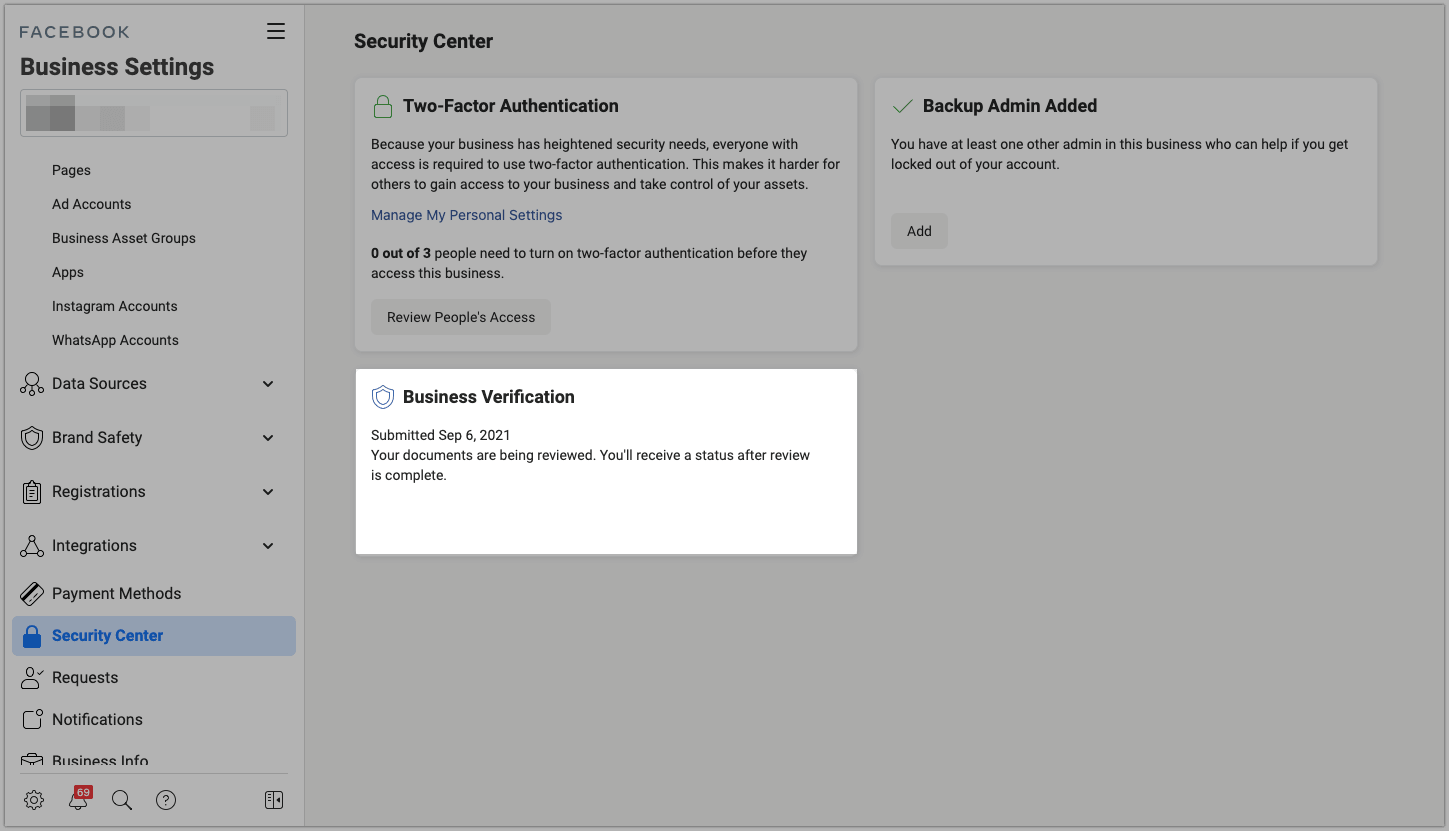 If the company is verified, a green shield and a confirmation date will be displayed.
After successful verification, you can create a WhatsApp chatbot without the restrictions of the trial mode in just 5 minutes.
Last Updated: 13.09.2022