How to View Student Questions
During the studying process, students may have questions regarding the material. They can ask a question inside each lesson in the student's account. A chat between the instructor and the student is created for each lesson. Students can also ask questions about the course on the course registration page.
Let's learn how students and instructors can exchange messages and where to find a chat.
How Can Students Ask Questions and Find the Answers?
In the student's account (on your course domain), inside the lesson, there is a message icon in the upper right corner. The student can click on it and enter their question.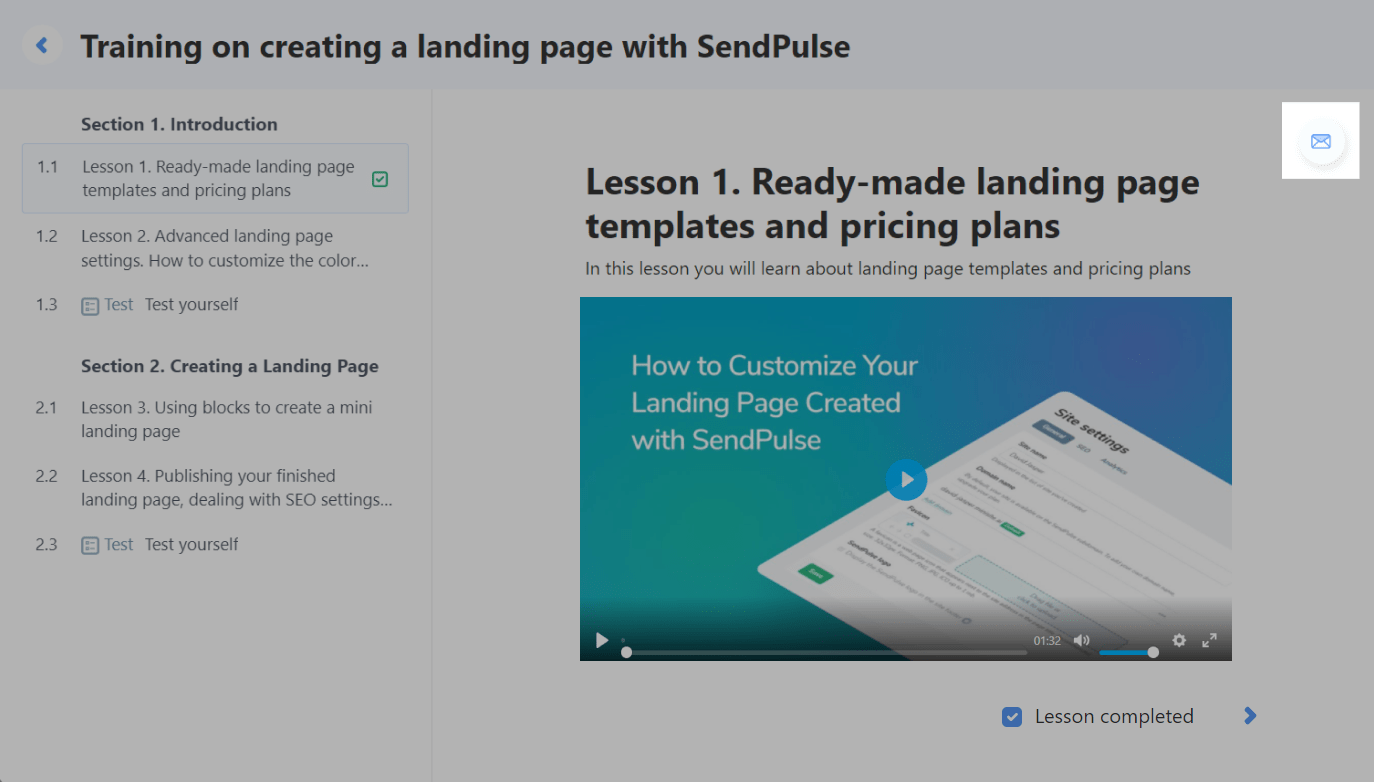 To see the answer, the student needs to go to the "Questions" tab.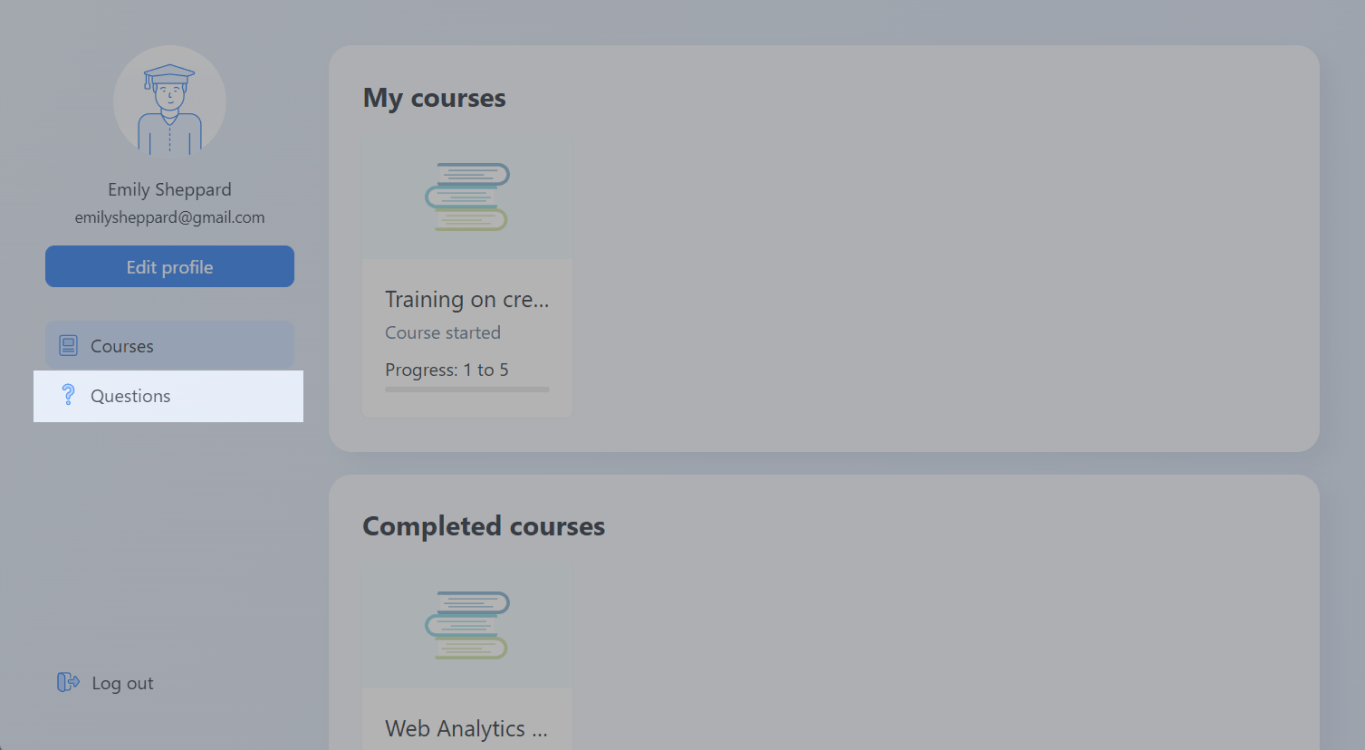 Then select the question under the desired course, and go to the chat.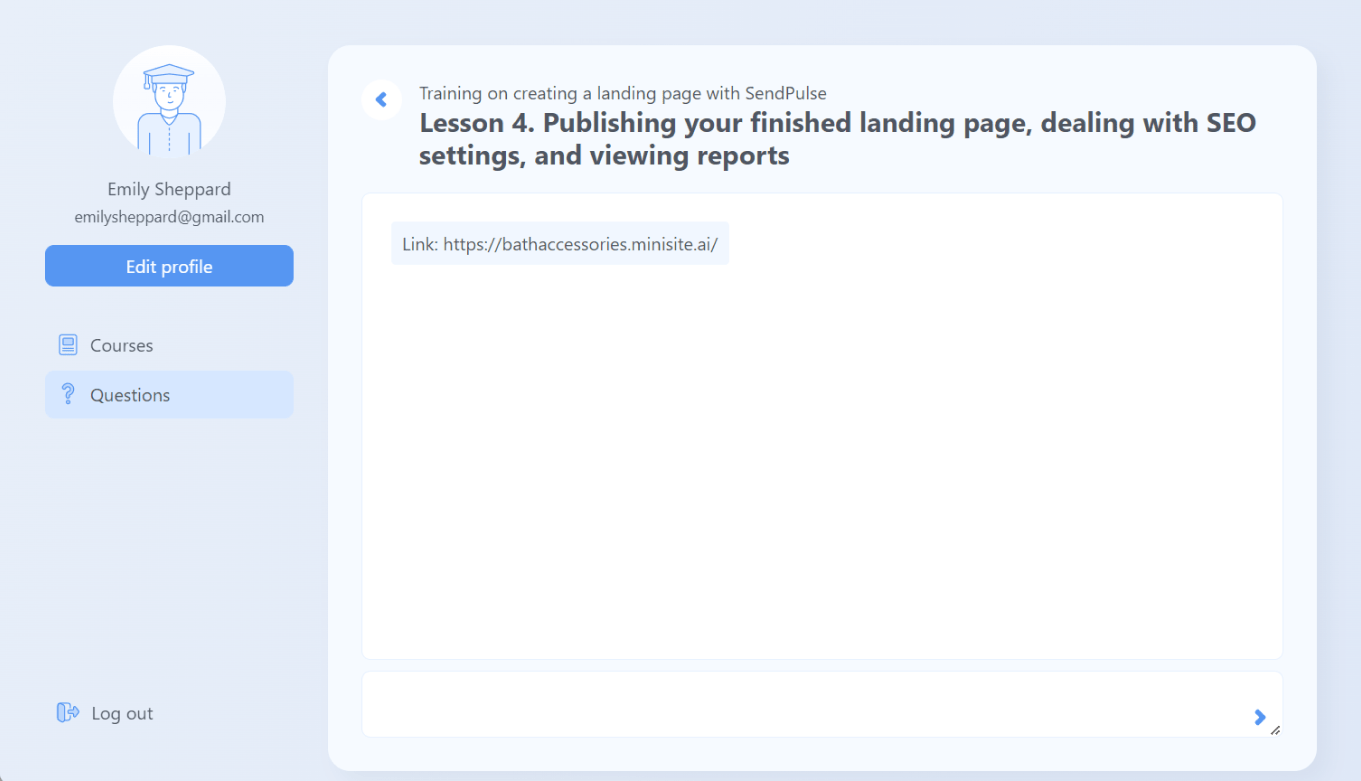 Students receive answers to their questions to the email address they indicated when registering for the course.
How Can Instructors See Students' Questions and Provide the Answers?
View Answers
In the instructor's account (personal SendPulse account in the "EDU" tab), go to the "Questions" tab.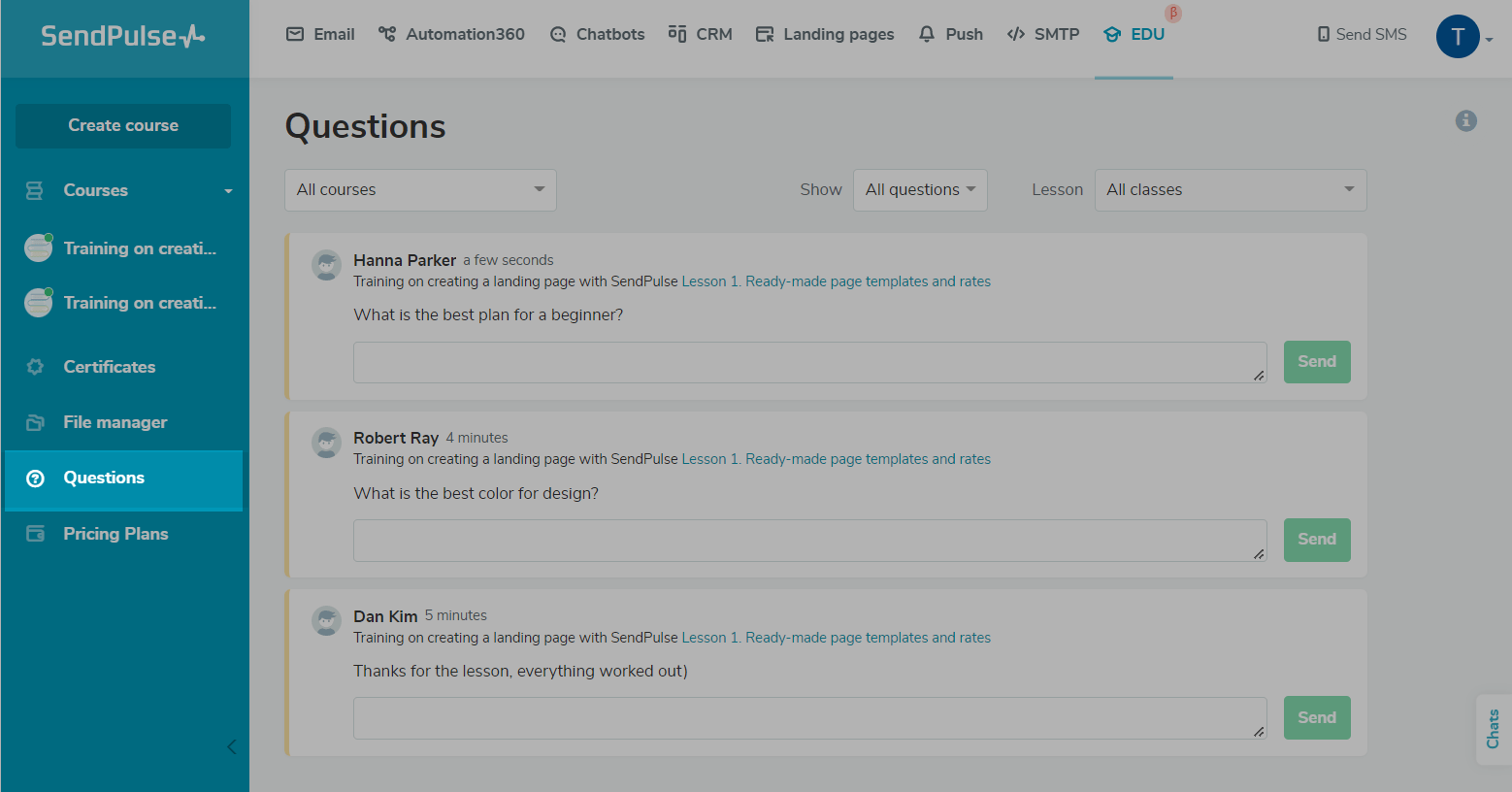 You can filter students' questions by the following criteria:
all courses or a specific course;
all questions answered (green) or unanswered (yellow);
all lessons or a specific lesson in the selected course.
You can see the statistics for the questions. Read more: How to track student progress.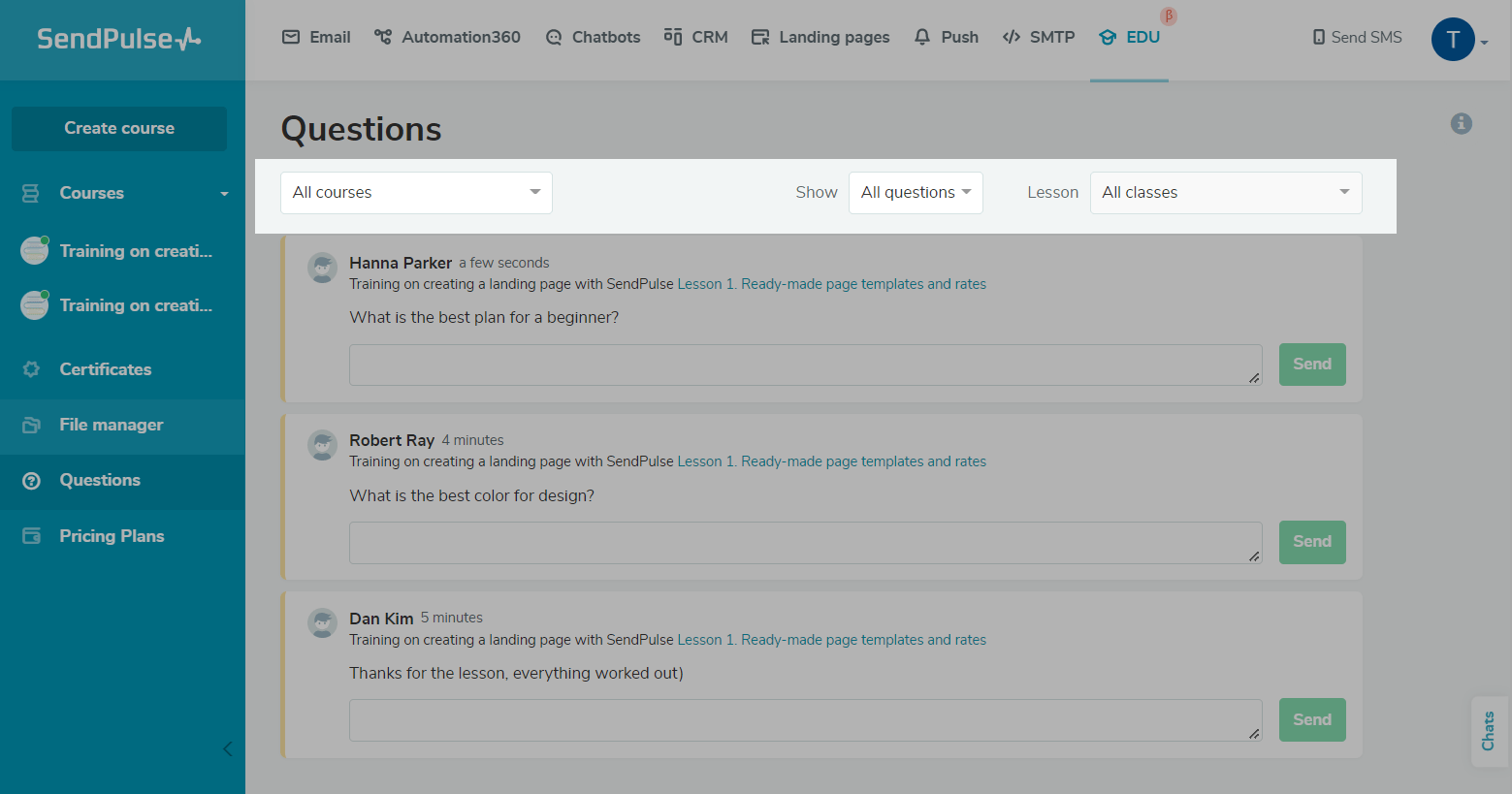 Under the student's name, you will find more details about the course and lesson their question is related to. You can open the lesson in the course builder by clicking on the link.
Send Answers
Under each question, there is a text field where you can reply to a student. Enter your answer, and submit it.
Instructors receive questions from students regarding the course to the email address they used to register their accounts.
Also, instructors can choose on whose behalf to reply to students. To choose another respondent displayed to a student, click the question icon, and select an option from the drop-down list. You can select a specific course instructor or choose not to provide an instructor name at all, replying to a student anonymously. If you don't see an instructor you want to choose, you can invite them.
A student will see a reply from a selected instructor or an anonymous reply in their student account.
By default, replies are sent anonymously (without instructors names).
Unlike students, instructors can see not only on whose behalf a reply was sent but also who actually sent it. To find out who answered a question, hover over the reply.
Archiving or Deleting Answers
To keep your students' questions organized and not get overwhelmed by irrelevant ones, you can archive or delete certain questions.
When deleting questions, note that you can do this only in your instructor account or delete them in both the instructor and student accounts.
If you delete questions only in your instructor account, they will appear there again if a student continues this question thread.
If you delete questions in both the instructor and student accounts, the questions will be removed permanently.
When archiving, note that questions are saved to a separate archive folder. For example, you can view recurring questions in the archive and use them when creating a test or improving your course.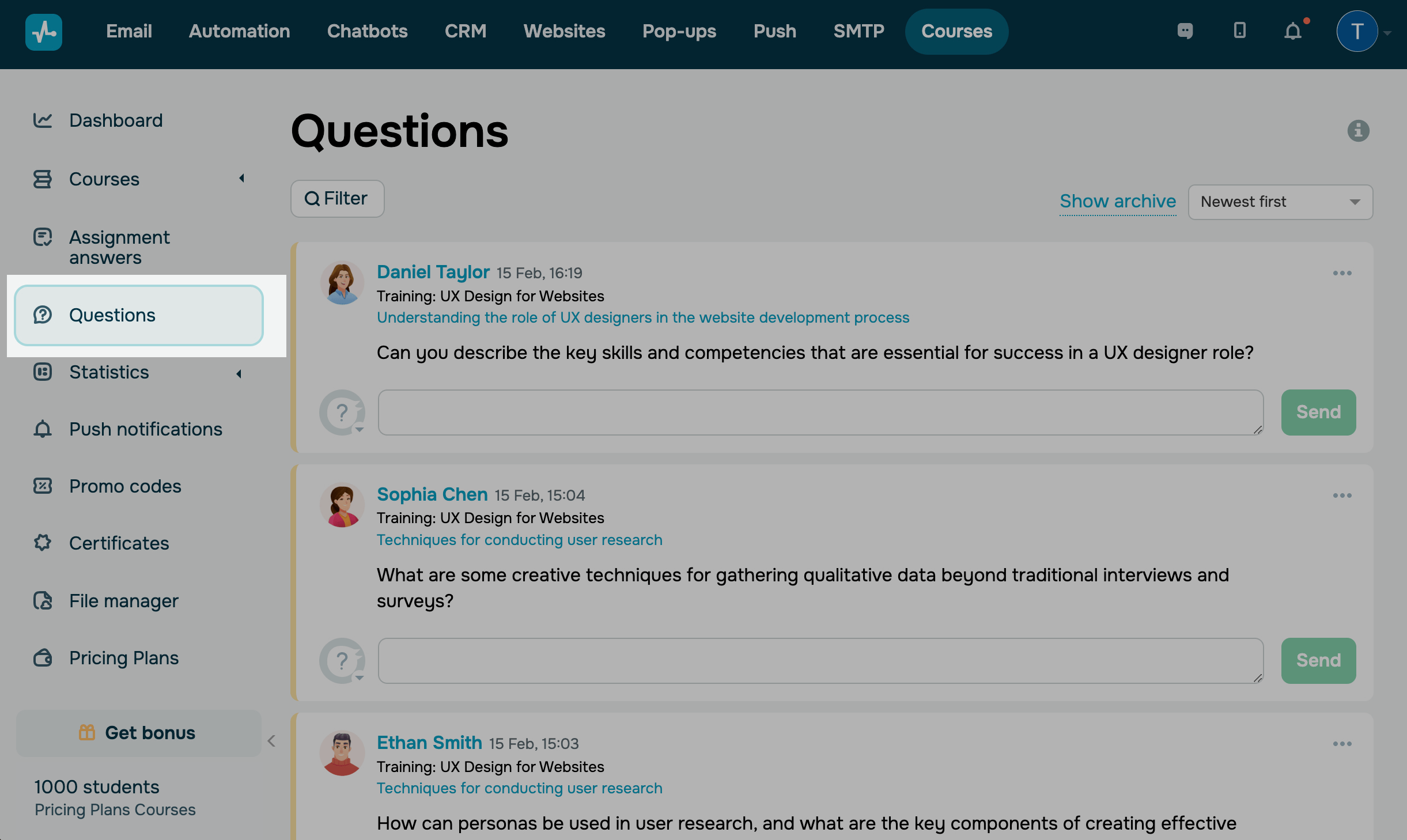 To view your archived questions, click Show archive. You can filter your archived questions by course, lesson, or answer status.
If a student continues an archived question thread, it will be automatically restored from the archive.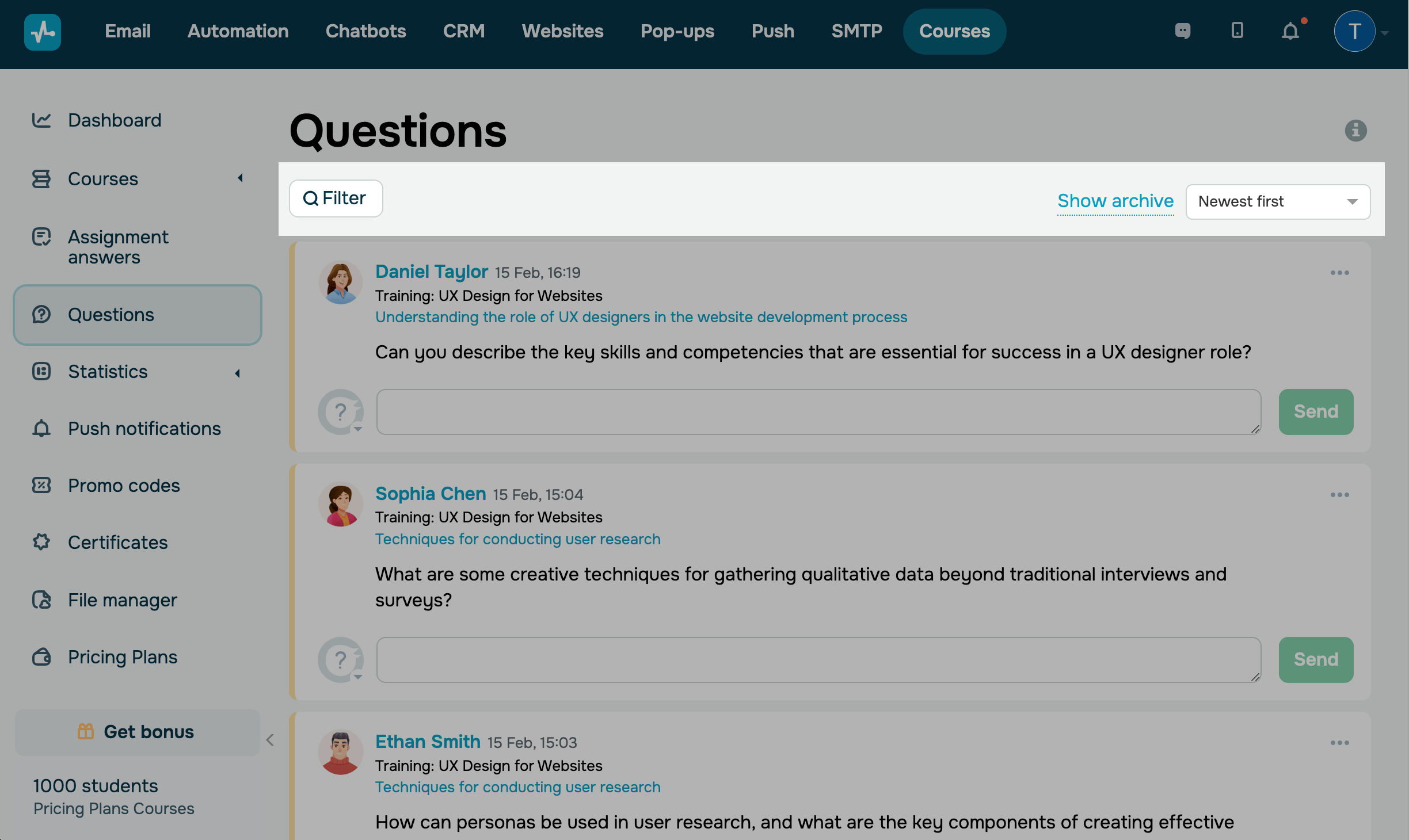 Last Updated: 06.11.2023