Email Deliverability Best Practices
Email deliverability is a measure that indicates the number of sent emails that reach the inbox of subscribers. In email marketing, deliverability is a percentage. Why is it important? Keeping tabs on email deliverability ensures that companies send emails that are read by subscribers. Furthermore, email deliverability impacts sender reputation. Hence, if your emails don't land into the inbox, your sender reputation will suffer.
That said, to improve email deliverability and marketing success, we've collected a list of best practices to follow. A professional marketing platform like SendPulse will take care of all the technical issues so that you can focus on building relationships with customers. Check out the tips below!
Authenticate Emails with SPF, DKIM Signatures
DKIM (Domain Keys Identified Mail) is a technology that enables companies to vouch for messages sent via email. SPF (Sender Policy Framework) technology, on the other hand, is a way of identifying the sender of an email that offers additional means of filtering messages to detect the presence of spam.
When marketers authenticate their emails with SPF and DKIM, servers check an email sender authority, and if it's high, the email undergoes less filtering. With SendPulse, marketers can integrate the service's SMTP into their systems and use SPF and DKIM cryptographic signatures to reduce spam and vouch for their emails. With SendPulse, you can authenticate your emails for free, follow the guide.
Follow the instructions below.
Warm-up Your IP Address and Send Emails consistently
Here is a simple warm-up schedule.
After acquiring a new IP, start sending gradually with a low email volume firstly to build an IP address reputation. With time, you can increase the email volume. In addition, it is essential to consistently send emails because mailbox providers often filter messages when sudden surges in volume occur. In this article on the SendPulse blog, you can explore the pre-warming procedures and take a closer look at the warming up schedule.
With SendPulse, you can send bulk email at a specific time according to your schedule to ensure that they warm up your IP addresses adequately, and thus, boost deliverability.
Check Emails for Spam
Check if your email contains spammy content. Email spam checkers, like Mail-Tester, can do that for you, but using it takes time. Instead of that, it is much more convenient to use the SendPulse drag and drop editor who has a built-in spam checker for improving email deliverability. It provides recommendations related to the lack of authentication and poor organization of email content without even leaving a campaign builder.
For instance, SendPulse's spam checker detects the absence of an SPF record, DKIM signature, or alternative text and gives brief instructions to fix these issues.
Segment the List
Email segmentation is an essential email delivery practice. Rather than sending mass emails to the whole list of subscribers, it makes sense to divide the base into different categories of users who have common interests and send more valuable content.
With SendPulse, it is easy to segment mailing lists based on the variables you define. Everything depends on how well you know your audience: gender, age, occupation, place of living, etc. All of this data will help you craft targeted campaigns. Besides, SendPulse provides marketers with ready-to-use segments based on the activity of their subscribers. This way, you can approach each user differently.
Here are the segmentation criteria available when creating an email campaign with SendPulse.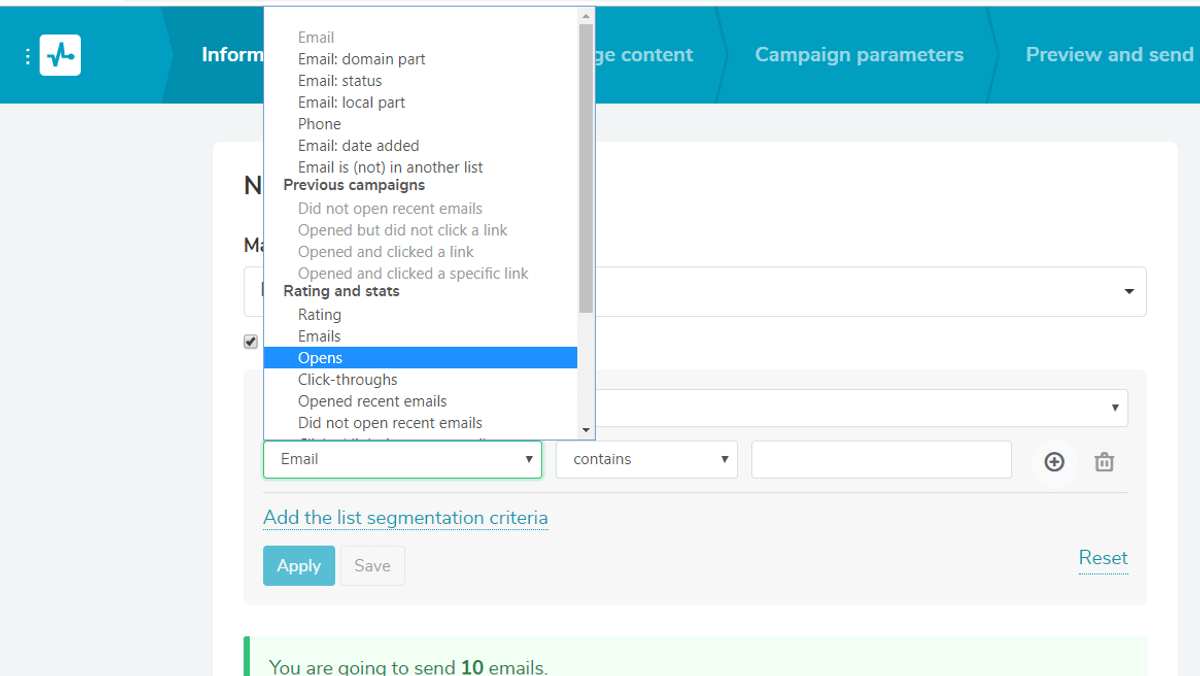 Follow this guide to send segmented email campaigns.
Let Users Set Preferences
Very often, subscribers mark emails as spam if the emails don't meet their expectations. Being labeled as spam negatively influences email deliverability; hence, the sender's reputation. So, it would be a good idea to let users decide how often they want to hear from you as well as choose the desired types of content to receive. For this purpose, many brands create an email preference center and include a link that redirects to a form. After a user fills it, marketers create different segments according to the data collected.
Grammarly asks customers to share their preferences to improve communication with a brand.
Send Emails from a Dedicated IP Address
By using a dedicated IP, a business's sender reputation is not shared with other users utilizing the same IP address. Consequently, the email deliverability of the company will not be impacted by spammers' campaigns. With SendPulse, marketers can send emails via a dedicated IP address and avoid blacklisting their IPs due to the actions of others.
Keep Your Mailing List Healthy
Maintaining a healthy email list is another email deliverability best practice. It helps marketers keep lists of people who are interested in emails from a company and removes subscribers that are not interested. Interest in your email will increase your conversions. Sending emails to subscribers who never open them harms your sender's reputation, hence, email deliverability. So, get into the habit of checking your mailing list regularly. Try to reactivate subscribers who are not engaging with your emails. If they are still passive, remove them from your list.
Reactivate Passive Subscribers
Marketers re-engage inactive contacts and determine if they still want to receive marketing emails. If a subscriber is not interested, it is best to eliminate them from the list. However, if they are willing to receive your emails, they can be put back to the mailing list. SendPulse detects inactive subscribers (those who haven't opened any of the email campaigns sent within three months) automatically, thus helping a marketer in planning subscriber reactivation. You may choose these segmentation criteria when creating an email campaign.
Very often, brands motivate users by offering a special discount as Banana Republic does.
Track Email Campaign Performance
Email marketers should monitor the performance of their campaigns to make sure they are moving in the right direction and correct their strategy on the go. If emails are delivered but marked as spam, check to see if you have the following:
Confusing subject lines
Poor email formatting
Spammy words in preview text and subject lines
Low content relevancy
SendPulse allows users to track statistics after sending each campaign.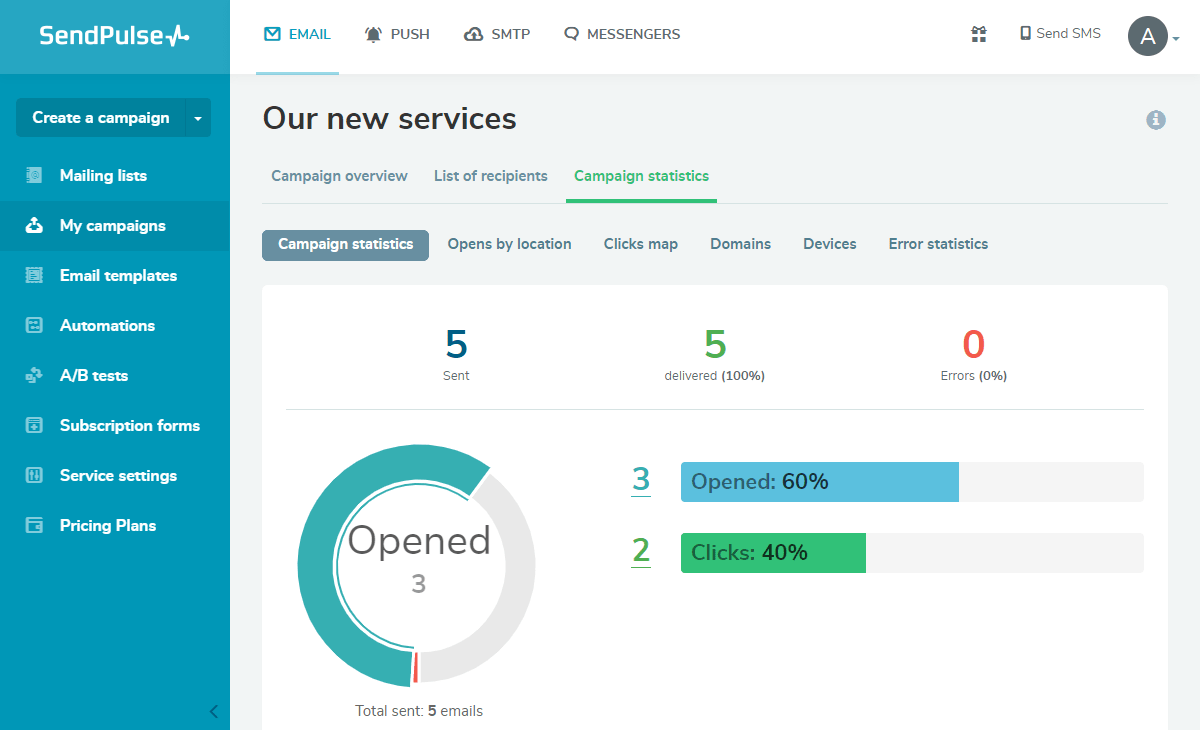 Provide a Visible Unsubscribe Link
Senders need to make it easy for people to unsubscribe. Keeping recipients in a mailing list against their will undermines engagement. So, make sure that each email campaign you send contains a visible and easy-to-click unsubscribe link, and the whole process is seamless. To know your weak points, ask users what made them unsubscribe. You may either offer to choose a reason or let them write their own.
Read this guide to add an unsubscribe link to your email in SendPulse. To add unsubscribe reasons to your unsubscribe form, follow article:
How to Create an Unsubscribe Page.
Shutterstock lets its users unsubscribe and manage email preferences on one page, and that is a win-win for both since a user may give you a second chance instead of leaving your mailing list.
Following email deliverability, best practices will help you stay on the safe side and take care of the content of your emails. Let SendPulse deal with the technical side so that you can deal with more important things!
Last Updated: 04.08.2022