How to Create a Viber Chatbot
A Viber chatbot is an easy-to-use marketing tool that can display information to subscribers, collect data upon request, and accept orders according to pre-planned scenarios.
In this article, we will talk about how to create a Viber chatbot and automate your communication with clients using the Viber app.
Create a Bot Account in Viber
Create a Viber chatbot on the Viber Admin Panel, and get a bot token. To do this, log in with the same phone number you used to create your Viber account.
The login confirmation code comes to the Viber application to the entered phone number. Check if you have entered the correct number.
Click Create Bot Account and fill in the required fields.
| | |
| --- | --- |
| Account Image | This is an image that will be displayed in your bot account and as an icon in messages. |
| Account Name | This is your bot name. |
| URI | This is an ID that will be added to your bot link. |
| Category | This is an account category for which you are setting up the bot. |
| Account Description | This is a bot description that will be displayed under your logo. For example, you can specify what your company does and how the bot can be useful. |
| Website Address | This is the web address of your site. |
| Email Address | This is an email address using which users can contact you. |
| Location | This is your business location. |
At the end, confirm that you agree to use the bot in accordance with the Viber policy, and click Create.
Get Your Token
The token will be automatically generated after you create an account. Copy it.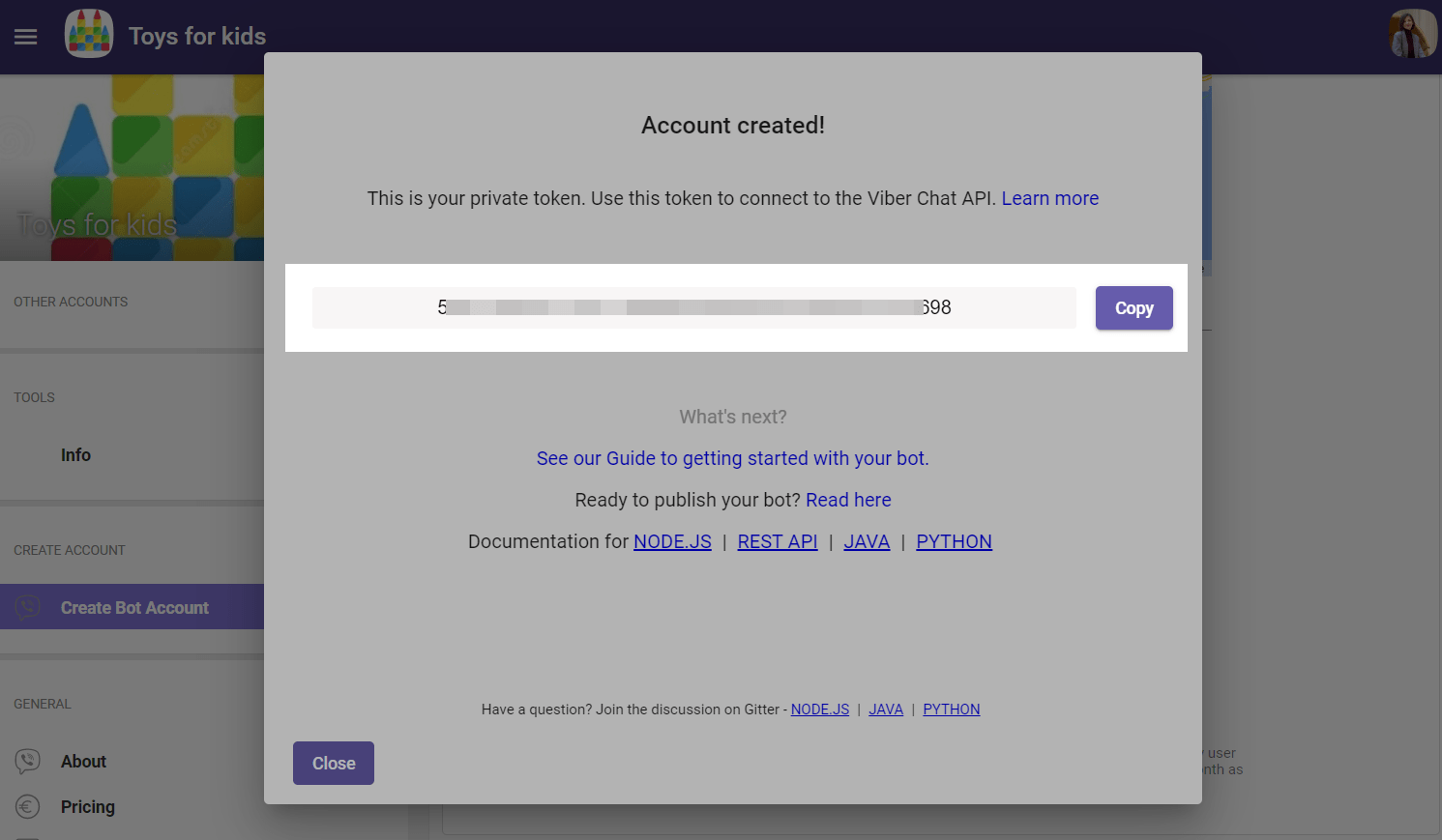 If you already have a bot, you can find the token on the same site in the "Info" tab.
Connect Viber to SendPulse
Go to the "Chatbots" section of your SendPulse account. If you have not connected channels before, click Connect Channels.
If you have already connected bots, go to the "Bot management" section, and click Add Bot. You can also select "Connect" next to the necessary channel.
Paste the copied token from your Viber account, and click Connect.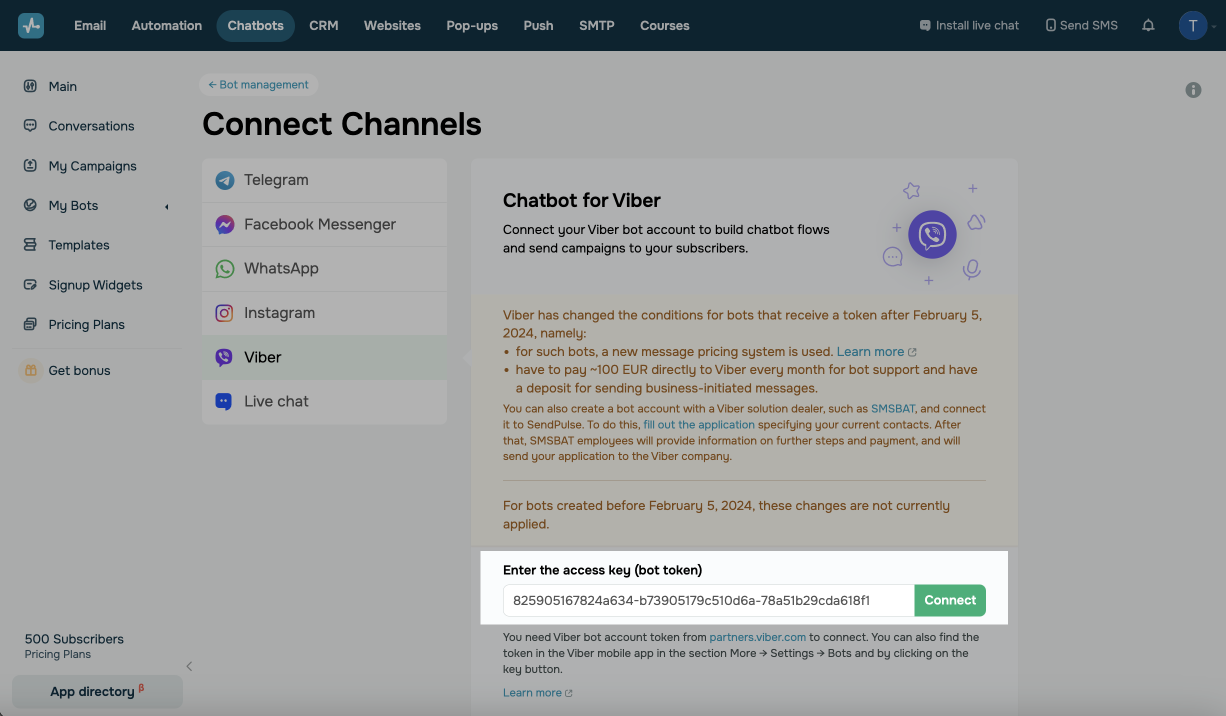 Subscribe to Your Viber Chatbot
Subscribe to your bot to add your Viber account as a bot owner in the bot audience and test flows and payments by sending them to yourself before running them for other users.
To open the Viber app and send a message, follow the link in the window or scan the QR code.
Via the QR Code
Log in to your personal account in the Viber mobile app, go to settings, and click the QR code icon. Also, you can scan the QR code using the "Camera" mobile app.
In SendPulse, go to the Viber bot page on your computer. You will see a modal window with the QR code as shown below.
Point your camera at the QR code to scan it.
After you scan the code, and the page with the bot in the Viber mobile app opened, click Start to subscribe to your bot.
Via the Link
Follow the link if you plan to use the desktop version of Viber. After following it, you will be able to test bot messages and replies from your account.
Once you successfully connect the chatbot and subscribe to it, you will receive a welcome flow, the bot will appear in your list of bots, and you will be able to set up your bot and create welcome and trigger flows.
You can send an unlimited number of messages within a 24-hour session and 10,000 chatbot-initiated messages outside of the session.
Collect Bot Subscribers
You can grow your bot's audience organically (when users subscribe to your bot themselves) or by importing a file with users' contact info.
A user can subscribe to your bot if they follow a direct link to it. Subscribers are added to your bot audience by their Viber IDs, not their phone numbers.
Read more: How to Collect an Audience for a Viber Chatbot.
Last Updated: 04.08.2023