How to Check Emails for Spam with SendPulse
SendPulse recently updated the drag and drop editor with a built-in spam checker. With this tool, you can improve your email deliverability and create better email templates. Unlike other email spam checkers, it takes one click in SendPulse to know which aspects of the email campaign need changes. For this you need to:
Step 1: Create Your Email Campaign
Use HTML editor, drag and drop editor, or get a free pre-designed template from our library.
Fill your email with content and customize all elements to your liking, like on the screenshot below.
Step 2: Get Recommendations
At the last stage of creating an email campaign, the Preview and Send, step сlick the "Get recommendations" link in the Message content section.
Once you click a link, you will see a pop-up window with a list of issues your email has, along with useful recommendations to fix these problems. In this case, DKIM and SPF records are absent, and images have no alternative text attributes.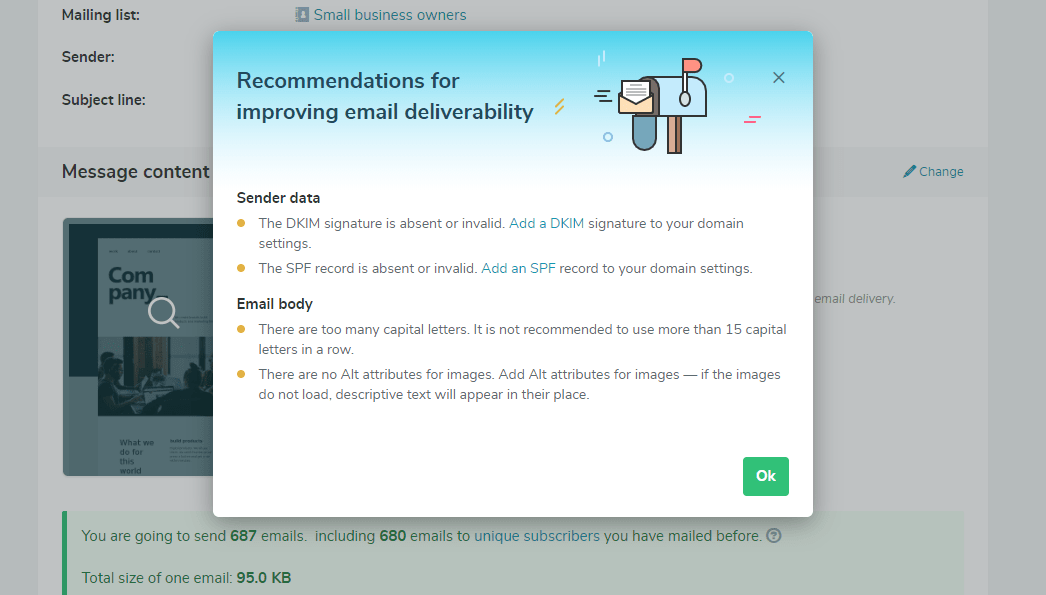 See the full list of issues that SendPulse email spam checker indicates:
Sender data
It stands for authentication parameters that tell recipients' email providers whether you're a trustworthy sender. Here're the issues that may appear:
you sent the campaign from a free domain address like Gmail or Yahoo;
absence of DKIM signature;
lack of SPF record;
the sender's name is shorter than four characters.
Learn more: How to set up email authentication.
The subject line
The subject line is the first thing users consider when deciding to open your email. Here's what can go wrong with that:
it is shorter than 6 characters;
it is longer than 100 characters;
it contains stop words;
it has more than 15 capital letters in a row;
it has more than 2 exclamation marks in a row.
The preheader
The email preheader follows the subject line. It provides more details about email content, or vice versa, intrigue readers and encourages them to open the message. Two issues may happen with the preheader:
it has more than 15 capital letters in a row;
it contains stop words.
Email body
The email body is the content of the message. It includes headers, text blocks, images, CTA buttons, links, social media buttons, etc. Pay attention to the following issues that may take place in the email body:
it contains stop words;
it has less than 60 characters of text;
it has over 15 capital letters in a row;
it has more than 3 exclamation marks in a row;
it has no alt attributes for images;
it has less than 60% text-to-image ratio;
the unsubscribe link is shorter than 6 characters.
Step 3. Follow Recommendations and Send
Fix all of these issues without even leaving your campaign: add alt text and links, remove unnecessary capital letters and exclamation marks, create the unsubscribe link of an appropriate length with an explanation of how to opt-out, etc.
It will take more time to get authentication parameters fixed, but if you pay attention to that, your email servers will be less likely to consider your emails as spam.
Last Updated: 22.02.2023