How to Create a Chatbot in Telegram
A chatbot is an automated multifunctional assistant that can receive and send triggered messages. With SendPulse, your bot can save data as variables, allowing you to personalize your communication with customers in the future.
Follow this step-by-step guide to create your first Telegram chatbot or connect an existing one to SendPulse.
If you have already created a Telegram chatbot, you can go straight to the third section of this article.
Why Do You Need a Telegram Chatbot?
Chatbots are commonly used to automate customer service. They can quickly and efficiently answer customer questions, handle inquiries 24/7, and automatically collect customer feedback after a purchase. To do this, you need to create a bot scenario with commands your subscribers will use to solve their issues.
Bots can send instant notifications and campaigns about new promotions, events, or important business updates, which helps keep customers in the know and increase brand awareness.
How to Create a New Telegram Chatbot
Go to Telegram, log in to your account, or create a new one.
Type in @BotFather in the search field, and go to this bot.
Official Telegram chatbots have a blue checkmark next to their name.
Click Start to activate the BotFather chatbot.
You will receive a list of commands you can use to manage bots.
Select or type in the /newbot command, and send it.
Choose a name for your bot — your subscribers will see it during your conversations. You also need to pick a username for your bot so that users can find it using search. Your bot username must be unique and end with the word "bot."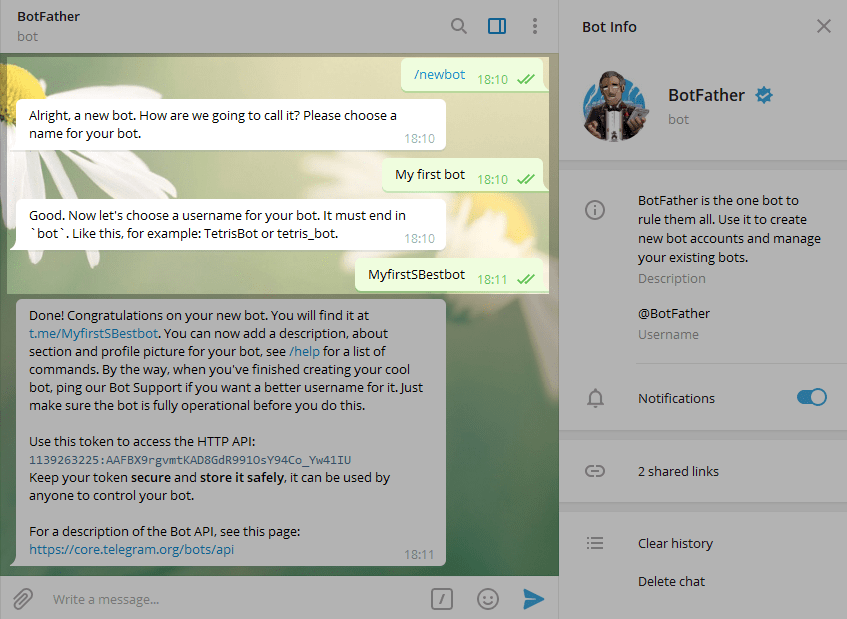 Once you choose a name for your chatbot, it will be created. You will receive a message with a link to your bot (t.me/<bot_username>), recommendations on how to set up a profile picture, description, and a list of commands you can use to manage your new bot.
To connect your bot to SendPulse, you need a token. Copy your token value — you can find more information on how to connect your bot to SendPulse.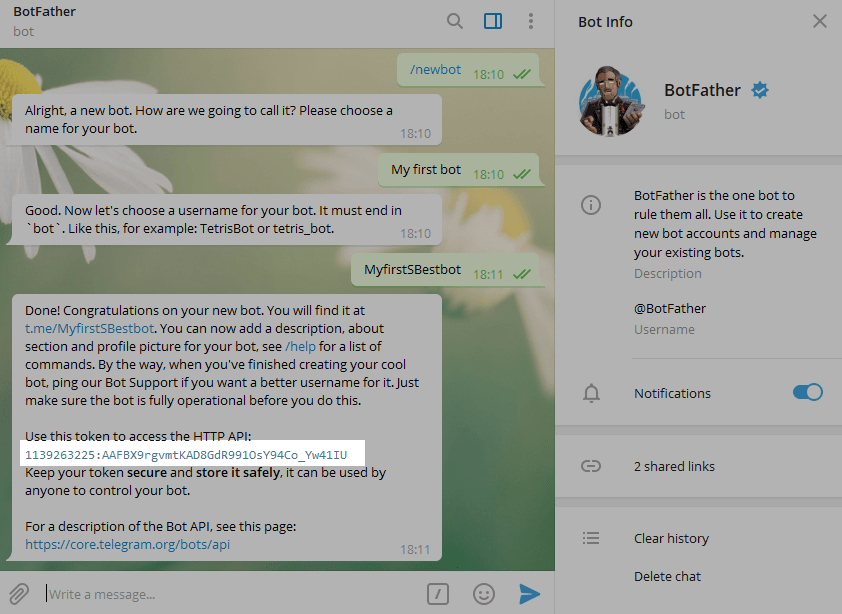 How to Find a Token for an Existing Bot
Go to the @BotFather bot, and send the /token command.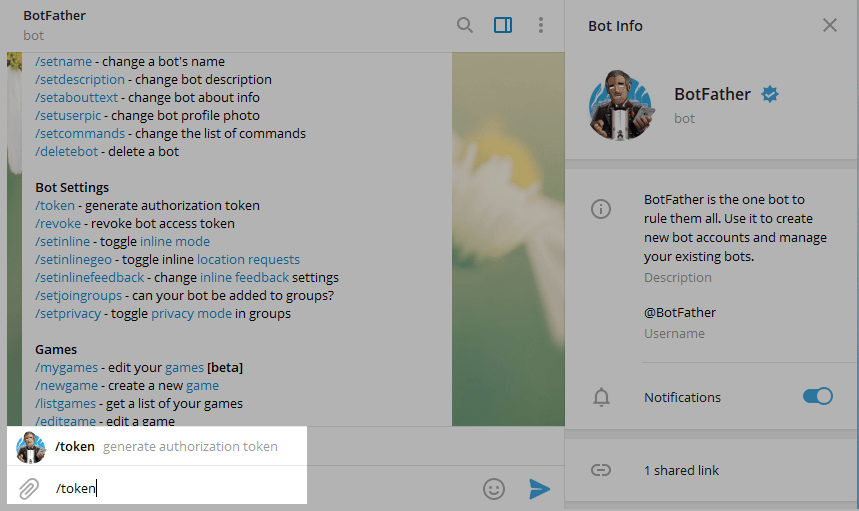 You will see buttons with your existing bots.
Select the required bot so that you can connect it to SendPulse.
Copy your token value.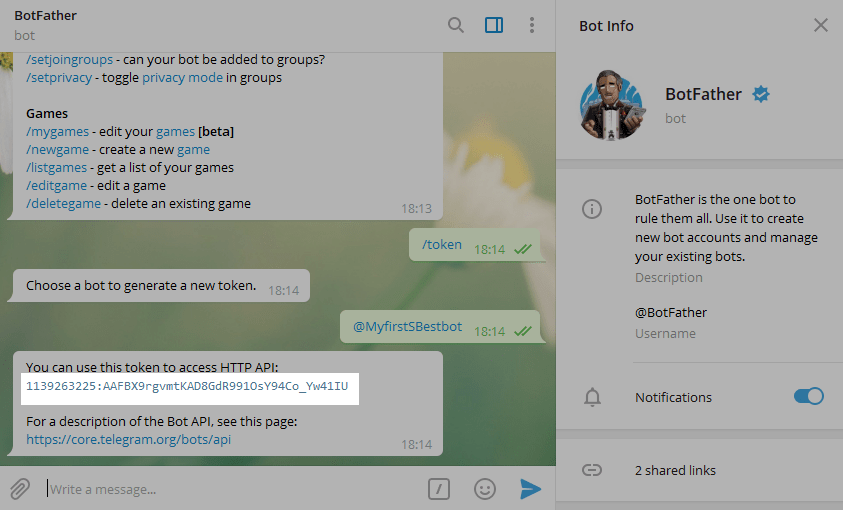 How to Connect a Telegram Chatbot to SendPulse
Go to the "Chatbots" section in your SendPulse account. If you have not connected any chatbots before, click Connect.
If you have already connected chatbots before, go to the "Manage bots" section, and click Add bot. You can also click Connect next to Telegram.
In the "Telegram" section, enter your bot token, and click Connect.
In the next window, click Subscribe.
You will be redirected to the Telegram app. Click Start, and you will subscribe to your bot.
Once you successfully connect your chatbot, you will receive its welcome flow, the bot will appear in your list of bots, and you can start creating welcome and triggered flows or bulk campaigns.
How to Create a Chatbot Scenario
The "Welcome message," "Standard reply," and "Unsubscribe from bot" flows are available by default. You can also create your own triggers and scenarios.
Read more: How to Work with the Chatbot Flow Builder and How to Manage Chatbot Flow Triggers.
You can create chatbot scenarios from scratch, use ready-made SendPulse templates, or generate them using OpenAI.
From Scratch
First, determine your key chatbot goal, for example, customer service automation, lead data collection, providing information about products or services, and so on.
Specify what kinds of conversations your bot should support. You can write them down to visualize your scenario.
Use multiple elements in one scenario, including text, images, filter, and user input, to make it useful and dynamic.
Read more: How to Create an Automated Flow for a Telegram Chatbot.
Using a Template
You can also use ready-made solutions or take inspiration from them. The "Templates" section offers flow templates for various occasions. You can use and edit them in the builder, adding your content as you go.
Read more: How to Create a Chatbot Flow Using a Template.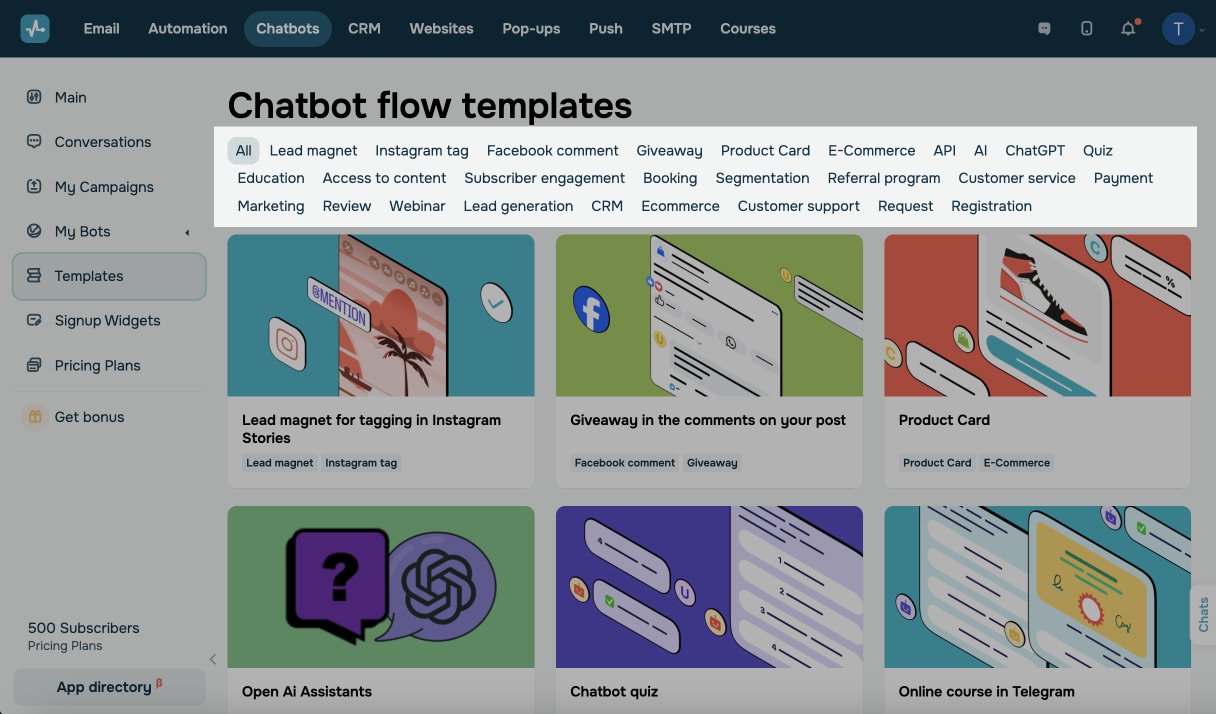 Using AI
You can also use artificial intelligence to create flow scenarios based on your needs. This will significantly reduce the time it takes to generate creative ideas and chatbot structure.
Go to the chatbot builder, and click Create a flow with AI. Specify all the details you would like to include in your bot, and type in your flow requirements and prompts.
Read more: How to Generate a Chatbot Flow Using OpenAI.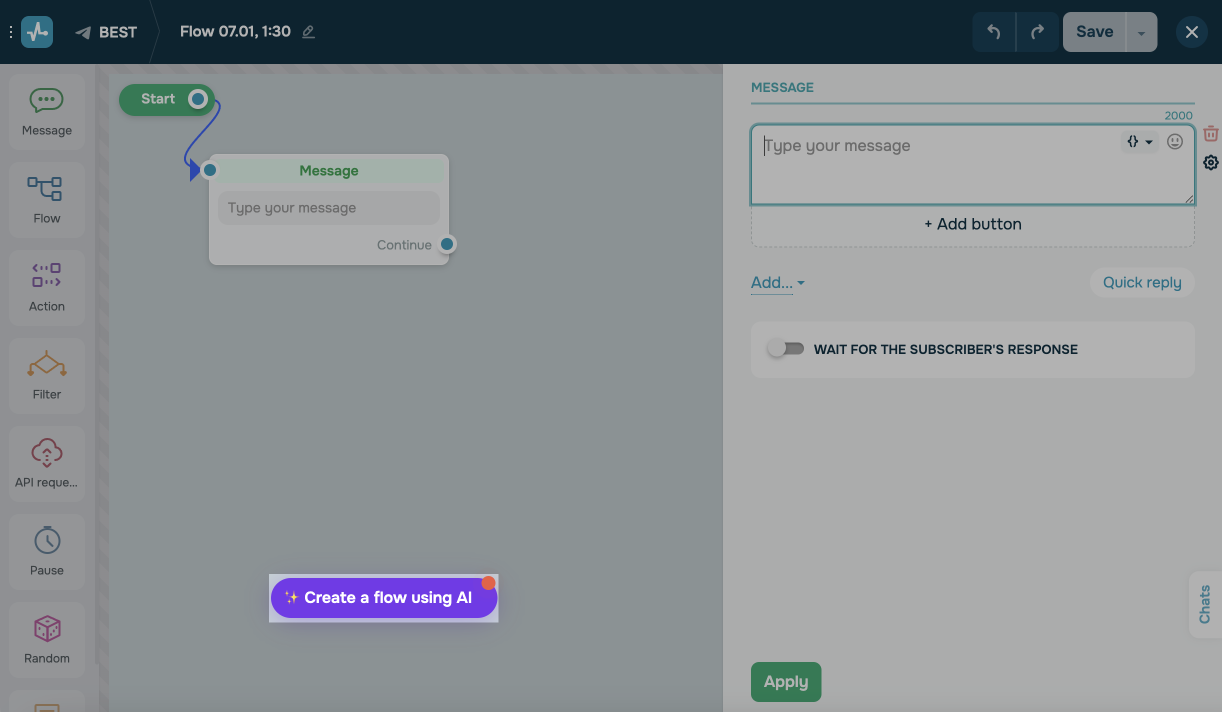 Artificial intelligence can also generate unscripted replies to users in real time. Integrate with ChatGPT, and provide questions about your company to which you want your bot to respond.
Read more: How to Connect ChatGPT from OpenAI to Your Chatbot.
Once you create a Telegram bot and its scenario, you can add your chatbot link to your website or link it to smart pop-ups. If you have a list of subscriber IDs with 8-10 digits, you can import it.
You can also track your chatbot's behavior in your account statistics and chats with subscribers to analyze the user journey and improve user experience.
Last Updated: 18.10.2023